Even with the rough economical times, California Progress Incorporated (CPI) is looking to restore and maintain California.
Kim Drummond is the 2010 Board President for CPI. She said currently they are continuing to work on the Finke Theatre. They are also going to be heavily involved with the Downtown Revitalization and Economic Assistance for Missouri (DREAM) Initiative helping with identified city projects.
Work still to be done on the Finke Theatre includes the second floor above the concessions stand and constructing a marquee for the front of the building.
"We are trying to expand," Drummond said, "but we want to honor our commitment and finish the theater. We are having fundraisers to help bring in dollars. Most of our city projects have been supported by NAV tax credits. These worked like if you paid $1,000 for taxes and you had a 70 percent tax credit the money you owed in taxes could be targeted to a community project. We no longer have those credits on the Finke Theatre Project, so our fundraising is down a bit. We are trying to come up with creative ways to finish the theater and all the while the Friends of the Finke Theatre are managing it and doing their own fundraisers. We are the physical and they are doing the entertainment and programming."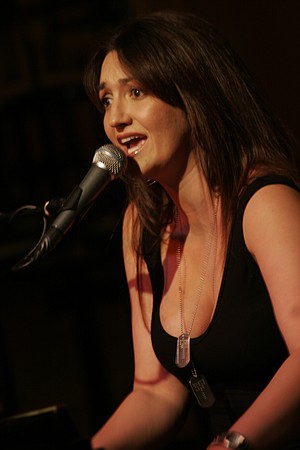 Photo by Dan Limke
Willie D's piano girls Anna Menyhart and Susan Erwin tickle the ivories at the popular Little Rock night spot.
She added CPI has its eye on the future but the Finke Theatre Project has been its most ambitious project to date and there is still a lot to be done. The plan is in nine years for the Friends of the Finke Theatre to take over the project so the two organizations working together is vital.
To help with the raising of funds, CPI is having Big Bucks Night Feb. 5 at Brinkley Hall. It will be a prime rib dinner for two including drinks for $100. There will be drawings at the dinner as well. Vickie Schroeder, who is the executive director for CPI said the tickets are going to be pre-sold. Schroeder is very proud of CPI and the work which has been done so far by the group.
"I think the work CPI has done has been great," Schroeder said. "If you look at pictures from 21 years ago when they took before and after pictures of the projects like me you would say, 'California has come a long way.' It could have been a dying city and now our downtown looks great and so do the parks."
She added according to someone who worked on the Railroad Station Park, they hauled truckloads of contaminated soil. She said the past and present projects have made California a better place to live because the city has been kept up.
"CPI has been able to do this because of donations," Schroeder said, "so CPI is our donors because without them we would not be able to do a thing."
Drummond said she enjoys helping with CPI. She started working for the CPI 10 years ago and has moved to volunteering for the organization. After moving here 10 years ago from Illinois, Drummond said she found California has a very good volunteer base actively involved in making the city better. Schroeder said their volunteer base has been very dedicated but the need for new businesses is a necessity.
"We are looking for new businesses to join CPI," Schroeder said. "For 21 years we have had the same dedicated members, but they are our older generation. We need to start targeting our younger generation and have them realize the betterment of California helps your business too."
For more information about CPI or to schedule a visit with Schroeder, call 573-796-4071 or you can go to www.calmoprogressinc.com and see past projects.