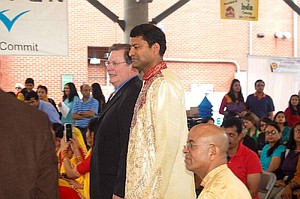 Arkansas Democrat-Gazette/HELAINE R. WILLIAMS Little Rock Mayor Mark Stodola is escorted by Rajesh Chokhani during the opening ceremony for IndiaFest, held April 19, 2015, at the River Market Pavilions in Little Rock.
Two people were arrested after a drug bust Friday in Moniteau County.
According to Moniteau County Sheriff's Department reports, deputies were dispatched to an abandoned vehicle on Route C near Missouri 87.
As deputies reached the area, they made contact with Andrew Richards, 32, of Jefferson City, who was walking on Route C. Deputies did a background check and reportedly found Richards had a revoked driver's license. Richards then allegedly told deputies he was not the driver of the abandoned vehicle and that the driver was at the Bee Line Gas Station in California.
Deputies asked the Missouri Highway Patrol to go to the gas station and make contact with the driver, Anthony Alexander, 26, of Henley. Authorities said he had an outstanding felony warrant for his arrest for parole violation.
Deputies went back to the vehicle and conducted a search where they allegedly found methamphetamine, marijuana and drug paraphernalia.
Both men are accused of possession of a controlled substance, marijuana and drug paraphernalia, with bond set at $50,000 each.