Bonnie Steinhauer
January 25, 2023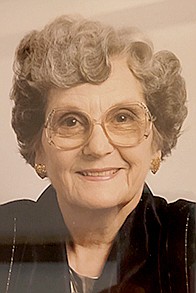 Bonnie Steinhauer, 97, of Garland, Texas, formerly of California, Mo., passed away Monday, January 16, 2023, in Mesquite, Texas.
She was born March 7, 1925, in California, Mo. to Joseph William Rosson and Olivia Ozembia Cook.
Bonnie grew up on a farm in central Missouri. She attended the Lebanon Baptist Church in the small town of McGirk. At the age of 13, she went forward and asked for forgiveness for her sins and took Jesus into her heart as her Lord and Savior.
Bonnie graduated from California High School in 1943. In 1946 she married Raymond Steinhauer.
Bonnie's various jobs were, first of all, a mother to Michael and twins, Kevin and daughter Rae. Bonnie worked at Bethel UCC in Kansas City as the church secretary, Sunday school teacher, youth teacher, and anything else that needed to be done around the church. She also worked at Grace Baptist and the Kansas City College of Osteopathic Medicine in Kansas City. Bonnie's last job, after moving to Dallas in 1978, was as an Interior decorator/displayer for Home Interiors & Gifts for 10 years.
Survivors include her three children: Michael, Rae, and Kevin; six grandchildren: Mickey, Alina, and Jakob; Mark, Casey, Magen; and 10 great-grandchildren: Sophia, Gabriella, Fernando, Aidan, and Brayden, Ashton, Dalton, Kamila, Malina, and Angel.
Bonnie was preceded in death by her husband Raymond on September 26, 2022.
Visitation will be held at Windmill Ridge Funeral Service in California, Mo. on Thursday, January 26, 2023, from 5:00 - 7:00 p.m.
Funeral services will be at Windmill Ridge Funeral Service on Friday, January 27, 2023, at 1:00 p.m., with Rev. Russell Cobb officiating. Burial will follow at Evangelical Cemetery.
In lieu of flowers, donations can be sent to St. Paul UCC, 6464 E. Lovers Lane, Dallas, TX 75214, Attn: Bonnie Steinhauer Memorial. Online messages to the family may be contributed at www.windmillridgefuneralservice.com.