Debra VanDieren
January 25, 2023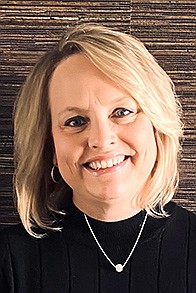 Debra A. VanDieren, 56, received her crown surrounded by her loved ones on January 15, 2023, at St. Mary's Hospital in Jefferson City.
She was born July 3, 1966, at Truman Hospital in Independence, Missouri, the daughter of Earl K. and Marjorie A. Friedmeyer.
She was baptized at Messiah Lutheran Church in Independence on July 24, 1966. In 1984, Debbie was the Missouri Junior Miss, and that same year she was Moniteau County and Homecoming Queen. She graduated from California High School 1984; she went on to college at Central Missouri State University, graduating in 1987.
Debbie met her husband Jay while attending CMSU, and they were married on May 21, 1988, in St. Paul's Lutheran Church. After graduation, she went to work at Hallmark Cards in Kansas City but returned to California to work in the banking industry and later went to work in the family business. Debbie enjoyed spending time with her family and friends, especially at the lake on their boat. She loved music and singing in the church choir. A lifelong Lutheran, she devoted her life to her family and church.
Survivors include husband Jay VanDieren; two daughters, Lindsey and Erin VanDieren (Ryan Korte); her parents, brother and nephews.
Debbie was preceded in death by her grandparents Alfred and Esther Nierman and Irene and Arthur Friedmeyer.
Visitation was held 4-7 p.m. Thursday, January 19, 2023, at St. Paul's Lutheran Church in California, Missouri. The funeral service was at 11 a.m. Friday, January 20, 2023, at St. Paul's Lutheran Church with Pastor Evandro Kopper officiating. Interment followed at St. Paul's Lutheran Cemetery.
In lieu of flowers, memorials are suggested to Jay VanDieren to support the JCMG cancer patients and the St. Paul's music fund.
Online condolences to the family may be contributed at www.windmillridgefuneralservice.com.