Robert Adams
January 25, 2023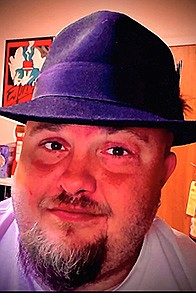 Robert Lee Adams, passed away January 18, 2023, at his home in Boonville, Mo.
He was born Nov. 7, 1986, to Van Adams and Elizabeth Gilbert.
Robert attended school in California, Missouri and was a 2005 graduate of California High School. He attended Johnson Wales Culinary School in Colorado for awhile then came back home to Missouri.
Robert loved people, music, and current news events. Robert devoted his life to helping those less fortunate, He had a deep heart, a sharp wit and loved to make people laugh. His job at Savvy
Seconds in Boonville for the past 13 years gave him a great sense of pride and fulfilled his desire to work with friends, co-workers and the public.
He is survived by his father, Van Adams, his wife Taunia Adams; and his step-siblings, Ben, Cortney and Quinn.
He was predeceased by his motherm Elizabeth Adams; his paternal grandparents, Bruce and Lois Adams; and maternal grandparents, Lee and Wanda Gilbert.
Robert will be laid to rest at Plum Grove Cemetery in Polk County, Missouri next to his father's family at a private family ceremony on Monday, January 23, 2023. Officiating will be Mr. Johnny Rummel.
Please remember Robert through your donations to Savvy Seconds, P.O. Box 239, Boonville, MO 65233.
Arrangements are under the direction of Bowlin-Cantriel Funeral Services, California, Mo.