Anna Derendinger
March 15, 2023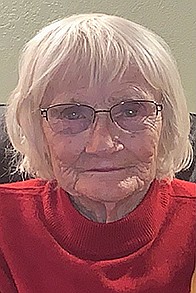 Anna Ellen Derendinger, 91, of Jamestown, Mo., passed away on March 11, 2023, at Capital Region Medical Center.
She was born October 26, 1931, in Pisgah, Missouri, the daughter of Henry and Blanche Stewart.
Anna married Louis on August 30, 1952, in California, Mo.
She was a longtime member of Salem Baptist Church. She was a member of OATS and served as the Jamestown Informant. She started writing letters to pen pals when she was 14 and remained in contact with them, and two became like sisters Dorothy Tharpe and Jessie Rummel. She looked forward to her daily mail. Her lifeline was her telephone and visiting with her family and friend Hilda Schoenthal. Anna worked on her farm, raising cattle and chickens-all had their own names. She loved growing flowers, canning and making jelly for herself and family, reading, doing word searches, and adult coloring books. She loved her family and being around her grandchildren and great-grandchildren.
Anna is survived by her two daughters, Joyce Harris (Truman Wallenmeyer) and Joan Scrivner (Brian); grandchildren, Douglas Loyd Harris (Deanna), Eric Scrivner (Amy), and Aaron Scrivner (Andrea); 13 great-grandchildren; her sister, Bertha Cook; and several nieces and nephews.
She was preceded in death by her parents, husband, Louis Derendinger; son-in-law, Jackie Harris; one brother, George Stewart and her sister, Hazel Elliott.
Visitation will be held Thursday, March 16, 2023, 5 - 7 p.m. at Windmill Ridge Funeral Service. Funeral Service will be held on Friday, March 17, 2023, at 10:00 a.m. at Windmill Ridge Funeral Service with Rev. David Griffith officiating. Interment will follow at California City Cemetery.
Memorials are suggested to the Salem Baptist Church Ladies Quilting Group.
Online condolences can be given at windmillridgefuneralservice.com.