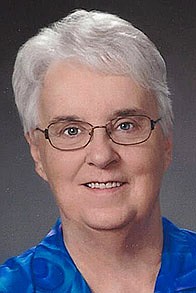 PONDER
Mary "Joanne" Ponder, 76, of California, Mo., passed away on Friday, May 19, 2023 at her home.
She was born on November 24, 1946 at the Latham Hospital in California, Mo., the daughter of Corbett Goff and Marie (Sturm) Goff, both of who preceded her in death.
She was a graduate of California High School. She later was united in marriage at Annunciation Catholic Church on May 20, 1967 to William "Bill" Ponder, who preceded her in death on March 24, 2002.
Joanne was a cook for California public schools for 25 years. She was of the Catholic faith. Joanne enjoyed shopping, loved watching hummingbirds, animals in her yard and spending time with her family.
She is survived by two sons, Bill Ponder and Derek Ponder of California, Mo.; daughter, Nicole Ponder of Jefferson City. Mo.; two sisters, Patricia Stanley and Marilyn Yard, both of California, Mo.; four grandchildren, Kaitlin Stockwell, Kaylee Rowlette, Luke Ponder and Landry Ponder.
She was preceded in death by three brothers, Al Goff, Ralph Goff and Bill Goff; three sisters, Margaret Miller, Jo Hirschvogel and Lois Staehle.
Visitation will be on Wednesday, May 24, 2023 from 5-7 p.m.. at the funeral home with a prayer service following at 7 p.m.
Mass of Christian Burial will be on Thursday, May 25, 2023 at 11:00 a.m.. at St. Martin's Catholic Church. Officiating will be Father Jason Doke. Burial will be at the St. Martin's Catholic Cemetery.
Memorials are suggested to the St. Martin's Catholic Cemetery, c/o the funeral home.
Arrangements are under the direction of Bowlin-Cantriel Funeral Service, California, Mo.