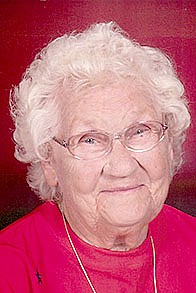 SCHNIEDERS
Dorothy C. Schnieders, 95, California, passed away Wednesday, November 8, 2023, at her home.
She was born November 22, 1927, in Cole County, the daughter of John and Hilda (Moeller) Rademan.
She married on July 3, 1948, to Alfred Schnieders, who preceded her in death on August 23, 1986.
Along with her husband, Dorothy raised her family of 10, then continued farming until 10 years ago. After raising her children, she got her GED and retired from Lincoln University. She was an avid quilter, and gardener but her greatest pleasure was spending time with her family.
She was a member of Annunciation Catholic Church, where she was a part of the quilters group and helped with funeral dinners.
Survivors include: two sons, Leroy Schnieders (Linda) of California and Terry Schnieders (Lynne Noel) of Jefferson City; seven daughters, Shirley Dunnaway (Skip) and Mary Buschjost (Tom) of Jefferson City, Judy Scott (Dennis) and Brenda Irey of California, Patsy Higgins (Randy) and Sue Carel (Terry) of Centertown, Careen Struemph of Freeburg; two sisters, Helen Schnieders and Hilda Rackers of Jefferson City; 16 grandchildren and 27 great-grandchildren.
Besides her husband, she was preceded in death by one son, Charles, September 1969; two sons-in-law, Alan Irey, 2015 and David Struemph, 2016; six brothers, Walter, George, Ralph, Art, James "Bud", and Ray Rademan; and three sisters, Marcella Hentges, Angeline Hoffman, and Catherine Rademan.
Services were held on Monday, November 13, 2023, at California Annunciation Catholic Church with Fr. Viviano officiating. Interment followed at California Annunciation Catholic Cemetery.
Online condolences can be given at windmillridgefuneralservice.com.
Published November 15, 2023